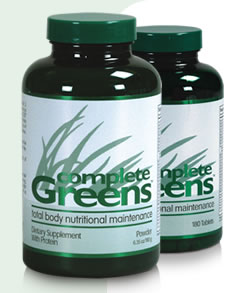 At Market America, we understand the choices you make influence the quality of the life you lead. Looking good, feeling good and enjoying life are as important to us as they are to you. Based on cutting-edge research and technology, our products address your lifestyle needs, health concerns and aesthetic sense. There's something for everyone at Market America's Mall Without Walls.

One of the few worry-free foods on the planet, greens are fat-free and contain no cholesterol while providing natural enzymes and contributing to beneficial probiotic activity. Complete Greens® contains a proprietary blend of ingredients that provide amino acids, vitamins, enzymes, probiotics and minerals, which help you maintain your digestive tract. Available in both tablets and a great tasting powder.*
*The Food and Drug Administration has not evaluated these statements.
This product is not intended to diagnose, treat, cure, or prevent any disease.

To learn more about Complete Greens
visit Market America, Inc at
www.marketamerica.com